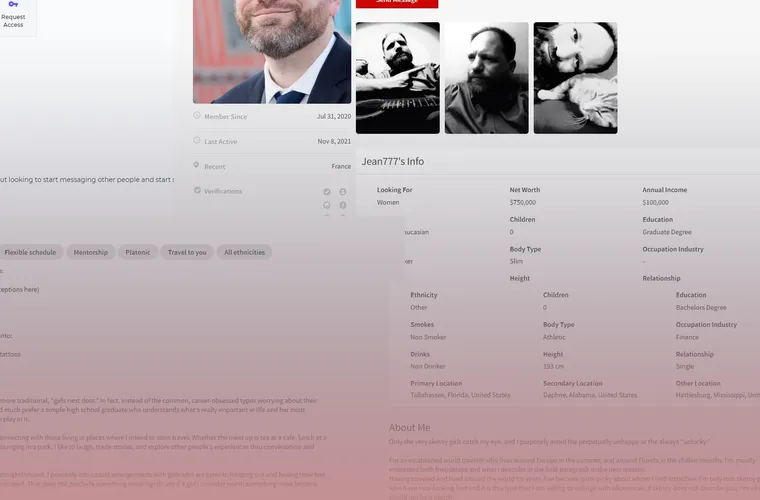 Some men mistakenly believe that they don't need a good sugar daddy profile—there are thousands of sugar babies on the site looking for benefactors, so ladies will contact them anyway, right? Well, the competition on sugar sites is pretty fierce, that's true, but the thing is, a good sugar daddy bio and profile will help you attract more real SBs who don't want to waste their time on fakes, Salt, and Splenda daddies. 
How to create an ideal sugar daddy profile? 
So, how to stand out on the sugar dating site? How to receive tons of messages from the hottest sugar babies in your area? Here are the essential sugar daddy profile tips. 
Select your best photos
Of course, for sugar daddies, photos are less important than for sugar babies. Nevertheless, there's also no denying that profiles with photos are much more popular. On top of that, they automatically get more trust—as we've noted before, a lot of sugar babies are afraid of meeting a scammer and try to interact with men who share real pictures. 
Write a catchy bio
Sugar daddy bio must be catchy. This is just another thing that makes your profile stand out. Spend 20 minutes and think about what you'd like to tell a sugar baby. Focus on the most important points—career, relationship goals, marital status, etc. Remember that this is what a sugar baby will carefully read and then decide to contact or not to contact you. By the way, we provide some great sugar daddy bio examples below. 
Give a sugar baby a reason to contact
It's pretty hard to start a conversation with a stranger online. Make it easier for a sugar baby—mention something she'll be able to use to write something more interesting than just "Hi, how are you?" Mention your hobbies, interests, values, tell something about your job and lifestyle. This will be helpful. 
Note that you can just create a catchy headline. Sugar daddy profile headlines can be very, very different. You can mention what type of a relationship you are looking for, what you are looking for in a sugar baby, mention your marital status or occupation—anything that is important for you and pretty useful for a sugar baby. Don't focus on sex or be too rude—sugar babies feel uncomfortable when seeing such headlines and don't contact such SDs. 
Successful sugar daddy profile examples
But what does a successful SD profile look like? Here are some examples—let's analyze them to understand what their owners did right and what they did wrong. 
Sugar daddy profile examples 
Let's start with a super-detailed sugar daddy profile. 
This is what a great profile looks like. A sugar baby understands what a sugar daddy is looking for, learns a lot about his personality and values, and most importantly, he lists the things that he is into, as well as the things he is not into. He mentions that he's looking for skinny girls, no exceptions, and that's perfectly normal—it just saves a lot of time for him and potential sugar babies. 
Here's another profile, and as you can see, it's not that detailed but is still good enough.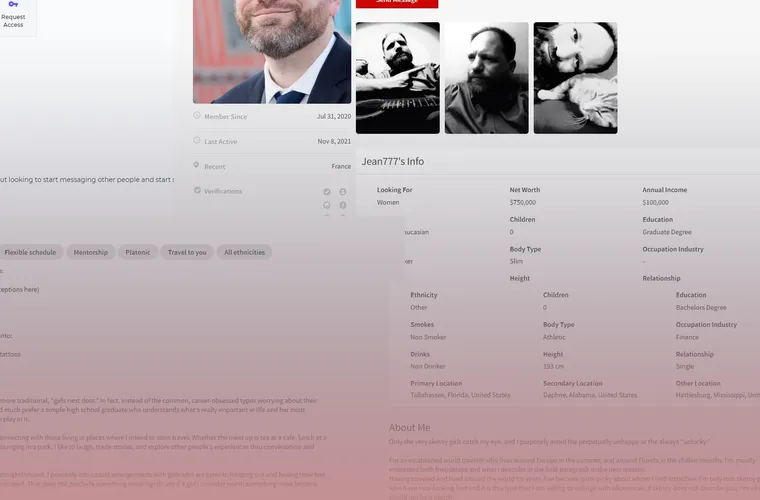 This French guy translated information to English, and that's great. He mentioned things that inspire him and his interests. Yes, he doesn't describe that in detail, but short bios are often more catchy, and we're completely sure he's very popular on secretbenefits.com. 
Ashley Madison profile examples 
Most profiles on Ashley Madison are not as detailed as profiles on secretbenefits.com. After all, this is a site for extramarital affairs and discreet dating. Still, some profiles look pretty good and, more importantly, provide potential sugar babies with the basic information they need. 
Here's an example of such a profile. 
Yes, it's not super detailed. But what we understand is that it's a partnered man looking for male sugar babies, and most importantly, looking for online relationships only. A sugar baby understands immediately what he expects and can decide if it works for him or not. Spoiler alert—online relationships, messaging, and cyber affairs work for most sugar babies. 
Final thoughts
So, these were profile ideas for a sugar daddy. Just remember that information in your profile must be useful for a potential partner, you should upload at least 2-3 pics and your profile headline should be catchy, not weird. 

My name is Joe! For the past 10 years, I've been living the lifestyle of a sugar daddy. I created this blog with the goal of helping people manage their sugar relationships.