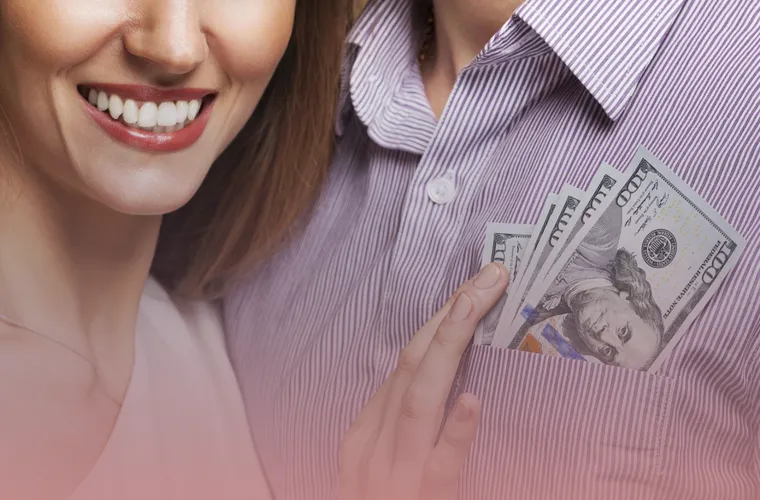 How much to pay sugar baby? That's a pretty complex question. Of course, all SBs want to earn more, but there are average prices in the market, as well as some criteria that will help you understand if your potential sugar baby is worth the money she asks for. 
What is sugar baby allowance
This is the rate, the amount of money that you pay for a sugar baby's time. Simply put, it's a sugar baby's salary. The most important thing you should know about it is that there is no fixed rate or anything like that—allowance is discussed, there's always a negotiation, and finally, a sugar baby and a sugar daddy agree to a deal; or they don't agree and just don't enter into an arrangement. 
What are the types of sugar baby allowance
Basically, there are two types of sugar daddy payments—the payment a sugar baby gets for a month, a week, or two weeks, i.e., a regular payment, and the payment she gets for a date. 
Pay per date
Sugar baby allowance per visit or pay per date (PPM) is the amount a sugar daddy pays for a date. Note that it's not payment for sex—otherwise, it's prostitution—a crime for both who provides sexual favors and for who pays for them. So, it's really a payment for a date—a dinner, conversation, movies, whatever you do on a date, and yes, in many cases, it involves sex (which, again, mustn't be your only goal and "activity"). 
How much do girls get in this case? Well, the rates vary. A platonic sugar baby (yes, some men pay for the time and nothing but the time a sugar baby spends with them) is likely to get about $100-$150, a "mid-range SB" is likely to ask for about $300, and some girls get $600-$700 per date. 
Note that the price depends not only on her looks, things you do together, her level of education, etc., but also on your location. In New York, you'll pay more than in a small town, and that goes for a monthly allowance, too. 
Monthly allowance
As you have probably guessed, a monthly allowance is a fee you pay per month. In some cases, SBs and SDs agree to get/pay every two weeks or every week. This can be a fixed price. Most sugar babies will ask for at least $2,500 per month. Again, high-end SBs can ask for $5,000 or $6,000, and if they are beautiful and smart enough, believe me, there are men who pay them this much. 
Again, the sugar baby allowance range is not the only important thing to consider. A sugar baby may ask not for a fixed amount but also to pay rent, cover her college expenses, male sugar babies often ask to pay for rent + gym, and the number of options is nearly endless. You can and should discuss this with your sugar baby to find out if the scheme she offers works for you.  
What system to choose: pay per date or monthly allowance
What's better, a sugar allowance per day or a sugar baby monthly allowance? It depends. Let's take a look at the benefits of both types of payments. 
Benefits of pay per visit system
PPM works perfectly for those who: 
Aren't sure that they want to start a long-term relationship with this sugar baby
Don't want to meet a sugar baby too often 
Don't want to pay a few thousand dollars for 3-4 dates 
Go on the first date with a new sugar baby and don't want her to think they are Salt daddies (scammers who want to have sex but don't want to pay)
As you can see, PPM is the best when you're not going to start a long-term relationship with a sugar baby. 
Benefits of monthly allowance system
Monthly sugar baby allowance can be more beneficial if you: 
Want to date one sugar baby for a pretty long time
Don't like to open your wallet and pay a girl each time you see each other (that's not the most romantic thing to do, actually) 
You're going to meet her often, for example, 3 times a week
You want to have an exclusive relationship with a sugar baby
Note that though many sugar babies don't mind getting monthly allowances, they can ask for PPM for at least the first or a few first dates—that's how they protect themselves from scammers. 
Conclusion 
I hope this sugar baby allowance guide was helpful. Just consider this information, ask yourself if you can afford this and how much you'd like to pay, and start looking for your ideal sugar baby. After all, there is plenty of fish in the sea. 

My name is Joe! For the past 10 years, I've been living the lifestyle of a sugar daddy. I created this blog with the goal of helping people manage their sugar relationships.